3D-Printed Heel Bone Saves Cancer Patient's Leg From Amputation in Pioneering Procedure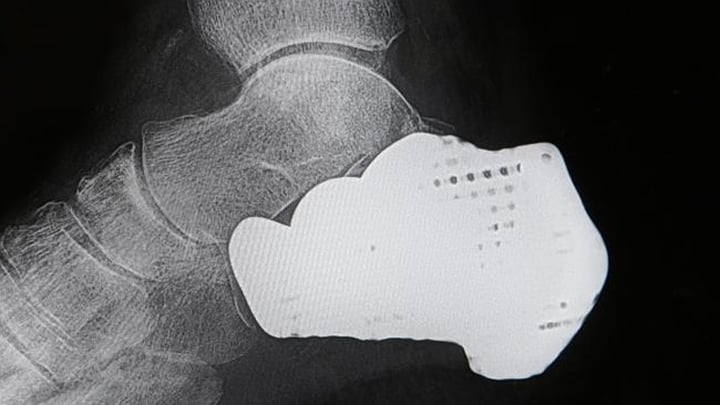 A CT scan of the patient's right foot with the 3D-printed titanium heel implant(St Vincent's Hospital, Anatomics and CSIRO)
Melbourne doctors, a government agency and an implant manufacturerhave come together to save a man's leg from amputation in a pioneering procedure by implanting the world's first 3D-printed heel bone.
Len Chandler, 71, a builder from Rutherglen, Victoria, was diagnosed with cartilage cancer earlier this year. In an extremely rare case, a tumour grew in his right calcaneus, a heel bone that is one of the largest bones in the foot.
The calcaneus is a crucial bone that serves as the foundation for the back of the foot, connecting the cuboid and talus bones, with the Achilles tendon attached to it.
Because of its complicated structure and interactions with other parts of the foot, patients with this type of tumour would usually have to have their leg amputated below the knee to stop the cancer from spreading.
3D-printing a new heel bone
Chandler was referred to Professor Peter Choong, a Malaysian-born surgeon who is head of the department of surgery for University of Melbourne at St Vincent's Hospital, as well as director of orthopaedics at the hospital.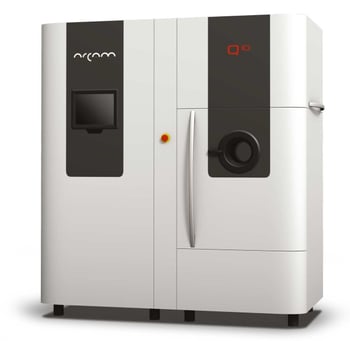 The Arcam Q10 – an industrial-sized 3D printer from Sweden designed for making orthopaedic

implants
(Arcam)
Choong and his team performed a CT scan of Chandler's healthy left foot and then sent the data to Anatomics, a Melbourne-based implantmanufacturer, which turned the data in an accurate mirror image design for a replica calcaneus.
Finally, Australian science research government agency the Commonwealth Scientific and Industrial Research Organisation (CSIRO) printed out the calcaneus bone replica from titanium using its Arcam Q10 Electron Beam Melting (EBM) industrial 3D printer, which is meant for the industrial production of orthopedic implants.
"Science advances have allowed us to consider 3D printing of bones and we were able to get information from Len's foot and use that to tell the computers precisely how big his foot is, and reproduce that using the new 3D technology," Choong told 3dprint.com.
"Going from the possibility of an amputation to where you preserve the limb on account of one [replacement] bone is rewarding if you can achieve it."
Chandler is due to make a full recovery
The titanium replica was implanted into Chandler's foot on 11 July and three months after the groundbreaking surgery, he is able to carry over half of his body weight and is expected to be off crutches by Christmas.
"I didn't know how good it was going to be. I don't think Professor Choong knew how good I'd be —but I'm going very well," Chandler said.
"Professor Choong said we could take the risk and I had nothing to lose. I was hesitant and I didn't know whether it would work, but I had to try it."
Anatomics have also been involved in another world first medical procedure this year – they produced the first full 3D-printed skull that was transplanted into a 22-year-old woman in Netherlands in March.
3D-printed orthopaedics have been used in Italy to repair severe bone fractures and in the UK to test out implants for facial reconstruction surgery, while in China, doctors have used 3D-printed titanium to rebuild the skull of a man and to replace a section of cancerous vertebra in a boy's neck.
3D-Printed Heel Bone Saves Cancer Patient's Leg From Amputation in Pioneering Procedure.